We are always on the look-out for solutions to help us reduce our waste but also to limit it. 
We can all agree that coffee is a valuable product. But so are the coffee grounds. This waste has a lot of virtues and can be used in many different purposes. For example, we are using it to grow our organic oyster mushrooms. This is a small step.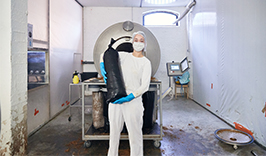 Le Pain Quotidien and Permafungi decided to start their collaboration in 2017 in Brussels within Tour & Taxis, an old industrial site where both have settled their headquarters.
Their collaboration allows to give coffee grounds a second life. Every week, Permafungi collects 600kg of coffee grounds in our restaurants to grow oyster mushrooms. The full process, from the coffee collection to the harvest of the mushrooms takes approximately 3 weeks. These mushrooms are then used, among others, in our recipes such as our 100% Vegan Bun or in our falafels in our Veggie Bowls.
"

The oyster mushrooms in our 100% Vegan Bun are grown on the coffee grounds of our restaurants. This coffee grounds is collected in our restaurants and used as is, right in the heart of the city. In doing so, we are closing the loop.
Tons of coffee grounds are tossed away and wasted 
On average, a European citizen consumes 5kg of coffee a year. Which amounts to 3,7 million tons of coffee grounds. Most of which directly ends up in our trash bins. Since 2017, we have already donated 45 tons of coffee grounds to Permafungi. This is a small step. 
"

And you, what kind of step are you taking?
Give a second life to our coffee grounds and inspire us with your tips #smallsteps
HOMEMADE FERTILISER
To make a coffee fertiliser, mix old grounds with dead grass clippings, brown leaves, or dry straw and spread the mixture around acid-loving plants like azaleas, hydrangeas, rhododendrons, and roses. They will be thankful for the extra minerals contained in the coffee ground.
ODOR NEUTRALIZER
To neutralise food odours – be it in the fridge or a sport bag – fill a jar with grounds and place it, uncovered, at the back of the fridge or bag. Coffee grounds can also absorb the strong odours in your garbage. Just fill up an old pair of pantyhose with some dry coffee grounds, and hang the mixture on the inside of your trash can lid.
MAKE IT SHINE
Coffee ground is is your go-to when it comes to hard-to-wash kitchen utensils. The abrasive texture will help you to get rid of sticky remains so sprinkle coffee grounds onto a scrub brush and use them as an abrasive to remove stuck-on food from pots, pans, and utensils.
THE SMOOTHER THE BETTER
Replace your store-bought exfoliator with coffee grounds. The abrasiveness of the grounds helps remove dead skin cells, without irritating your face or body. To use, rub the grounds on in the shower, then wash them off with cool water. Tip: Mix with a bit of water or coconut oil to have a natural exfoliant.
ON A WOODEN FURNITURE
Make a thick paste by adding a bit of water to the ground and rub it onto the scratch. Let it sit for a while, then wipe the extra paste out until you reach the desired colour.