We know how important that first – and last – cup of coffee is. That's why we spent months working on our beans, our baristas and our brew to bring you even better coffee. We've taken small steps to make a big difference on the freshness and flavour of our new coffee, 'Blend 86'.
Our beans
Our beans are 100% Arabica – a species of coffee originally indigenous to the mountains of Yemen in the Arabian Peninsula or the southwestern highlands of Ethiopia and southeastern Sudan. It's the first species of coffee grown for over 1000 years and it produces better coffee (over Robusta) and contains less caffeine than other commercially cultivated species of coffee. Our beans have always been organic and ethically-sourced and this will never be compromised. 
Our blend
We've been experimenting and found the perfect combination made up of two coffees, a Peruvian and Colombian. Every coffee is given a cupping score which indicates the all-round level of quality for each coffee. The highest scoring coffee received a cupping score of 86 – putting it well within the bracket of 'specialty coffee' and amongst the top 5% of coffee in the world. 
"

We've taken small steps to make a big difference on the freshness and flavour of our new coffee, 'Blend 86'.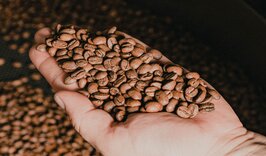 Locally roasted
We roast twice a week with absolute precision: by origin, in small batches and packaged by hand to ensure the finest quality. 
Our brew and baristas
We've worked on our recipe and our serve. Coffee needs to be freshly ground to order and weighed. Attention to detail has been our main focus with our baristas and in their continued training. We have doubled the weight of coffee used per espresso. We measure exactly 19 grams ground coffee producing 35g espresso. We time the extraction and know the perfect Espresso takes 28 to 30 seconds.
The milk we use is organic and we've chosen to serve plant-based milk for free for our My Pain Quotidien Members – using Oatly Barista Edition which makes the best coffee drinks. We also changed our Soy milk to Bonsoy, who only use premium-quality organic golden soybeans and has been a barista top choice in Australia for decades.
Our serve
We tested every coffee cup we could get our hands on for what vessel was best for which coffee. We decided on handmade English crockery for our Cappuccino, Flat White and Americano, and glass cups for Espresso and Latte. The glass creates a different sensation as the coffee passes your lips: more elegant, more subtle, more refined. You can appreciate the delicate notes of the beans like you can a fine wine.