In January we launched our "Small Steps" initiative by bringing in a series of efficient, meaningful and impactful steps to contribute to a better community, a better ecological footprint and therefore a better planet.
We have introduced an expanded vegan menu, a coffee grind recycling program, and we're working on the upcoming switch to biodegradable coffee lids and compostable packaging.
Next to contributing to a healthier environment, we also want to contribute to a better community. And therefore, this month, it's all about sharing kindness with those around us.
"

At Le Pain Quotidien, this February, we're dedicated to sharing; sharing love, sharing kindness and most importantly - sharing bread.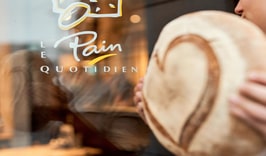 Following the recent government announcement that schools will be shut until 8th March and that the extension for Free School Meals vouchers is excluded over Half-Term, we as a bakery are going to help ensure that primary school children in our local areas are provided with high-quality, nutritious bread.
We'll support local schools by donating freshly baked loaves to families who are struggling, committing to donate enough for each child eligible for Free School Meals over the break.
All 1.8kg sourdough loaves sold in the currently open London bakeries, will be matched with a voucher which can be exchanged for a loaf of choice.
So, share love with us and buy a loaf at your local bakery from Monday 8th February to Sunday 21st February.
Participating Bakeries:
Canary Wharf
City – Monument
Connaught Village – Kendal Street
Hampstead High Street
Marylebone High Street
Notting Hill Gate
Parsons Green
South Kensington – Exhibition Road
St Pancras International