Holiday gift shopping can become a bit of a chore if you leave it to the last minute. Even if you were scrupulous with your list this year, you can be sure that you'll remember someone just days before Christmas. If this happens, don't panic. A homemade gift basket is a surprisingly simple way to offer a beautiful present that is thoughtful and doesn't look at all last-minute.
For goodies to fill your basket, look no further than our pantry shelves, which are full of our favorite organic and gourmet products. Stop by your neighborhood LPQ and let us help you choose from a range of delicious treats that are sure to please the pickiest on your list.
To get you started, we have some tips and inspiration to share. Whether you're shopping for the foodie in your life, a breakfast lover, or you're just in need of a simple gift for a coworker or a hostess gift, take a look at our 4 great ideas below and be inspired!
Quick Tips:
Find yourself a nice basket. Remember, it doesn't need to be fancy – it's what's inside that counts!
Line it with a beautiful dish towel for an added bonus or lay down some kraft crinkle paper to create an even bed for your products.
Think about who you're shopping for. Are they coffee drinkers? Have a sweet tooth? Maybe they love to cook and could use some gourmet additions to their kitchen. Choose a theme and pick a variety of things around it.

To assemble, start with the largest and tallest items first, placing them in the back and work forwards from there. It's a good idea to lay jars on their side with their labels facing up, or to angle them so they're visible.
Tie a ribbon or red twine around your basket when for a festive finish!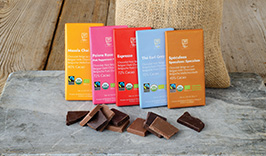 Gift #1 – For The Foodie:
Our picks: Le Pain Quotidien Cookbook, a grey sea salt mill, and plenty of our favorite Les Moulins Mahjoub products like cold-pressed extra-virgin olive oil, balsamic vinegar of Modena, harissa, whole artichokes and wild capers in sea salt
Gift #2 – For The Breakfast Lover:
Our picks: raw Crunola, holiday red espresso bowl, lavender or orange blossom honey, Villa Rica Single-Estate Espresso, Brussels Breakfast and Rooibos tea and Noisella spread with two wooden spreading knives.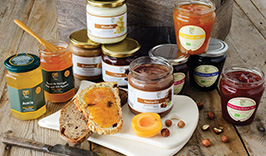 Gift # 3 – For The Coworker / Host or Hostess: 
Our picks: Nougat de Montélimar, Belgian speculoos gingerbread men, Thé Earl Grey Belgian chocolate, Poivre Rose Belgian chocolate and Noisella spread.
Gift #4 – For The Coworker / Host or Hostess Continued:
Our picks: An organic Belgian chocolate trio!
You can find all of these products and more through our Online Pantry, or even curate your own custom basket here. If you're not feeling crafty, or are simply in a hurry, choose from our gift collections.
Happy gifting!