It's not unheard of to return from a farmers' market trip with either enough food to feed a pack of linebackers, or conversely, with only a measly bunch of parsley to show for yourself. Without planning, and dare we say, a little strategy, it's easy to become overwhelmed by the selection, wasting money, food or time. We have some tips to help make the experience not only productive, but also fun!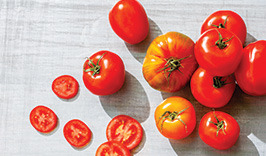 Plan meals beforehand. If you're looking to buy squash, think of the meals you will prepare with it. Maybe you're thinking of using it in a bisque, roasting it, or putting it in your ravioli. In this case, you will know how much to buy. No wasting!
Bring your own bag. Canvas or nylon works well. Farmers will often supply plastic bags, which can be too flimsy to hold up against the weight of heavy produce. Farmers will be appreciative that you were thoughtful enough to bring your own reusable bag. Our sustainable jute bag is the perfect size and strength for some serious farmers' market shopping!
Know what's in season. Be mindful of what's in season in your area so you purchase only what's freshest and therefore, tastiest.
Accept the lumps and bumps. Find out the ideal size, color and shape of the fruits and vegetables you're looking for. Bigger isn't always better! The oddly shaped tomato may be the most flavorful, while the perfectly spherical one could be tasteless! Farmers may also sell their dented, less aesthetically pleasing products at a lower price.
Rearrange bags after every purchase. Put heavier items at the bottom of your bags so nothing gets crushed. Be sure to keep herbs hydrated, too. Bringing a plastic bag or two with damp paper towel inside will help your more delicate purchases make it back home unscathed.
Show up early. Avoid crowds and get first pick of the day's bounty.
Arrive late. Contradictory, right? Not entirely. If you're not a morning person, you might be able to score some great deals as farmers are packing up for the day! If you had your heart set on a particular item, better get there early, though. Inclement weather can also be a blessing in disguise if you're dreading an early wake up. Crummy weather means you won't have to worry about having the prime pickings snatched up before you've even transitioned out of pajamas!
Walk around, make a full loop. This way you can comparison shop and avoid impulse buys. Many farmers will be selling the same thing. Scour for the fairest prices and best quality.
Never seen it? Try it. Give the produce you've never seen before a shot—surprise yourself with new flavors and improvise new dishes that are inspired by those flavors.
Be farmer-friendly. Shake the hand that feeds you. Farmers may have great suggestions for how to prepare those turnips you just bought. You can also ask about their farming practices to ensure your expectations align. Don't be afraid to ask about the use of pesticides or chemicals on their farms. They will love that you've taken an interest in their methods.
Buy in bulk! This is a great way to get the best deals, especially on seasonal items. Remember, freezing and canning are viable options to avoid unnecessary spoilage.
Enjoy yourself! Make a day out of your market experience with family and friends. Farmers' markets often have live music, cooking demonstrations, artisanal crafts, and delicious street food.