As Spring melts away what's left of winter, we welcome back green plants, blue skies and an extra hour of sunlight. Our favorite season inspires us to pour the love we feel from the Earth into our dishes (hello superfoods!). We take pleasure in creating plant-inspired creations for your families and ours, to not only enjoy, but live a nourishing life with.
Quinoa is a tiny, nutrient-dense "superseed," rich in magnesium and lysine, both essential nutrients for tissue growth and repair. Get your daily dose in this returning guest favorite, served with creamy beetroot hummus, tender arugula and chickpea salad!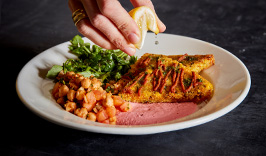 The flavors of spring come together in this fresh, new tartine on our superseed bread. Smooth ricotta makes the perfect canvas for tender smoked salmon, delicate microgreens and salty capers. Fresh and tangy lemon brings the flavors together, making this tartine our go-to for breakfast, lunch or dinner.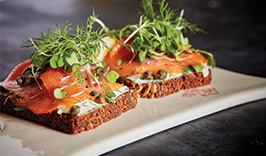 We've channeled the flavors of the classic Niçoise salad from Nice, France, with innovation and sustainability in mind. We use pole-caught, hand-packed white tuna from Spain. Why pole-caught, you ask? This age-old technique of selective fishing respects the environment and protects marine reserves by catching fish on-by-one, avoiding unwanted fish being discarded. The "belly fillets" we use are the most tender and delicate parts of the white tuna, with a subtle yet rich flavor. Top with an organic hard-boiled egg, capers, fresh herbs and basil oil et, voilà!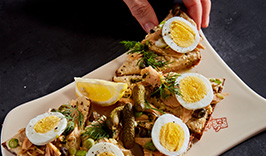 Avocado & Superseed Salad
This power-packed salad brings you the balance your body has been craving. Our delightful blend of sunflower, pumpkin, flax and chia seeds are packed with impressive amounts of protein and fatty acids, which help fight inflammation and boost immunity. Better yet, these mighty seeds deliver a satisfying crunch with every bite. With spring greens, zucchini, fennel and blueberries and a drizzle of our basil oil vinaigrette, this salad will solve all of your what-to-eat-for-lunch questions.
Beetroot & Hummus Tartine
Our newest vegan tartine is deeply satisfying thanks to silky beetroot hummus, antioxidant-rich (and detoxifying!) beets, fresh tomato-salsa and hearty chickpea salad. Finished with a squeeze of tangy lemon, this bright tartine will be your new plant-based lunch. Spring, is that you?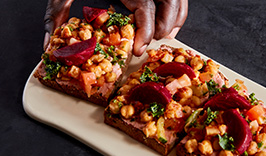 Crunchy walnuts, Vitamin A-packed carrot and juicy raisins make our newest sweet vegan treat heart-healthy and 100% irresistible. Ginger and cinnamon give it a kick of spice to get you going in the morning, or to pick you up in the afternoon!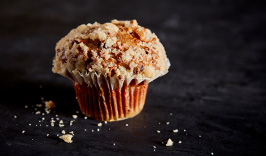 Lo and behold the delicious Pavlova, which gets its name from the Russian ballerina Anna Pavlova. Story has it, a diner declared this meringue-based treat to be "light as Pavlova," and the name stuck! Ours has a traditional crisp crust, soft, pillowy inside and fresh whipped cream and berries on top.