Fifty years ago, through their beliefs in the power of love, peace and music, 500,000 people at Woodstock changed the way an entire generation viewed the world and their ability to make a difference for good.
We celebrate the same 'for the people, for the planet' spirit every day, and we'd like to invite you to plant (noun) love with our new Summer menu and to plant (verb) love with us in your communities. Join the Plant Love movement and make a difference for the planet by coming together in the spirit of cooperation and positivity to help define a generation again.
We are thrilled to serve our Summer menu in our communities. Each dish celebrates the power of plants and the flavors of the season.
Good Karma Watermelon and Feta Salad
This salad is filled with summer ingredients including roasted Portobello mushrooms, quinoa taboule, avocado with mesclun and vinaigrette. This salad will make you feel good inside and out because for every Good Karma Watermelon and Feta Salad purchased, we will be planting a tree with the National Forest Foundation. The National Forest Foundation has a goal of planting 50 million trees by 2023.
Help be part of the movement by enjoying this salad or donating directly at https://www.nationalforests.org/.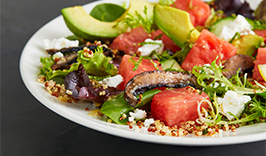 We are serving up our vegan Flower Power Bowl with coconut yogurt, flowerola, cashew butter, watermelon, pineapple and blueberries. Flowerola is a combination of puffed brown rice, crunchy rice cakes and lavender from Provenance. Flowerola is high in anti-oxidants, fiber and proteins plus adds a beautiful purple topping to this delicious dish.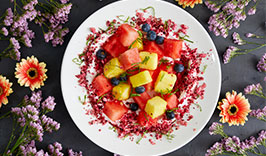 A combination of flavors you will crave all summer long, our new vegan Strawberry Toast Forever starts with organic supersede bread then topped with cashew butter, strawberries, poppyseeds, agave, mint and lemon. Poppyseeds are fitting in our Flower Power theme this summer. Poppyseeds are an oilseed obtained from the opium poppy. They can aid digestion and improve cognitive functioning.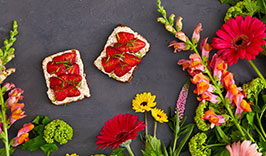 This vegetarian dish is mozzarella di Bufala, heirloom tomato, cucumber, spring greens and croutons with hemp pesto and vinaigrette. Our pesto is made from Hemp seeds, a superfood rich in protein, fiber, Omega-3s and Omega-6s known for its oxidant properties. Nothing says summer like heirloom tomatoes and in this dish you'll find them in a variety of colors for that perfect photo.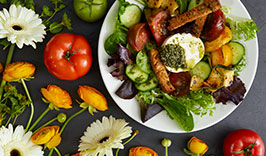 Portobello Shroom & Turmeric Hummus Tartine
A Belgian open-faced sandwich on our organic whole wheat sourdough bread topped with turmeric ginger hummus, Portobello mushroom, heirloom tomato, cucumber, parsley and cilantro.
Portobellos are known as 'Medicinal Mushrooms' for their ability to protect the immune system.
Paired with turmeric and ginger, your immune system will be ready for anything!
In addition to entrees, you'll also see flower power themed bakery offerings on our counter all summer long.
New additions include the Hibiscus Croissant, Lemon Poppyseed Twist, Lemon and Poppyseed Muffin, Apricot Tart and Strawberry Tart.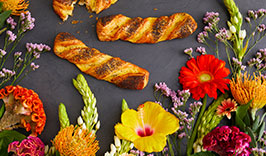 Drinks you can feel good about
Wash down our Plant Love dishes with a refreshing new beverage. New offerings include our Watermelon Cooler (cold-pressed watermelon, orange and lemon juice with agave), Organic Kombucha (yerba mate, turmeric, pineapple and coconut), Essential Green Juice (kale, cucumber, spinach, celery, romaine, lime and parsley).
Stop in and try our new dishes all summer long. Be sure to tag your photos with #LPQPlantLove.