While winter may have kept us holed up at home, spring has us ready to venture out of our shells. What's our favorite destination when the clock strikes 5 pm? Happy Hour, of course! From New York to Connecticut and select locations in DC, we're offering half off our wine and beer everyday after 5 pm.
For the perfect pairing, be sure to try one of our shareable platters. Here are some of our favorite pairing ideas.
Sparkling & Cheese
We love a good sparkling wine, and we love a good cheese board. So, you can imagine how much we adore pairing the two! Sip on a sparkling Chenin Blanc or Prosecco alongside our Artisanal Cheese Board assortment of goat cheese, Camembert, Gruyère and Fourme d'Ambert.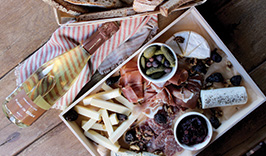 Sauvignon Blanc & The Botanist
Looking for something easy-drinking? Try our RN13 Sauvignon Blanc—a biodynamic "vin de grande table" produced right by our founder Alain's home in France! We recommend pairing it with The Botanist platter, complete with quinoa taboulé, hummus and avocado mash.

Red With Cheese & Charcuterie
You're in luck, New York—our light and elegant Opi d'Aqui Les Cliquets Grenache is offered only in Manhattan and Brooklyn restaurants for now. And, nothing quite complements this wine like our Artisanal Cheese & Charcuterie Board, which features a mix of cheese and charcuterie: goat cheese, Camembert, Fourme d'Ambert, prosciutto and soppressata! Not in NYC? Try our RN13 Cabernet for an equally delicious pairing.
***
What are you waiting for? Get happy at your local LPQ!