Coffee is good for more than just waking you up in the morning. Before you toss used grounds, consider putting them to use in the garden, around the house or in bath and body products. Finding a second life for coffee grounds can help you save money and live a more environmentally-friendly lifestyle.
And that's exactly what we're doing at Le Pain Quotidien. As part of our small steps campaign, we're inviting you to join us in reusing our coffee grounds. Because as a matter of fact, coffee grounds are one thing that's easy to reuse and recycle. Join us in taking small steps by collecting a free bag from your local bakery and give it a new life. From skincare to gardening, here's 5 ways to reuse:
"

Join us in taking a small step by collecting a free bag from your local bakery and give it a new life.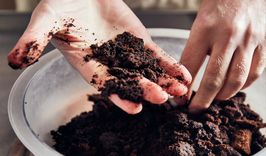 Homemade Fertiliser
To make a coffee fertiliser, mix old grounds with dead grass clippings, brown leaves, or dry straw and spread the mixture around acid-loving plants like azaleas, hydrangeas, rhododendrons, and roses. They will be thankful for the extra minerals contained in the coffee ground.
Odour Neutraliser
To neutralise food odours – be it in the fridge or a sport bag – fill a jar with grounds and place it, uncovered, at the back of the fridge or bag. Coffee grounds can also absorb the strong odours in your garbage. Just fill up an old pair of pantyhose with some dry coffee grounds, and hang the mixture on the inside of your trash can lid.
Make it shine
Coffee ground is your go-to when it comes to hard-to-wash kitchen utensils. The abrasive texture will help to get rid of sticky remains so sprinkle coffee grounds onto a scrub brush and use them as an abrasive to remove stuck-on food from pots, pans and utensils.
The smoother the better
Replace your store-bought exfoliator with coffee grounds. The abrasiveness of the grounds help remove dead skin cells, without irritating your face or body. To use, rub the grounds on in the shower and then wash them off with cool water.
Tip: Mix with a bit of water or coconut oil to have a natural exfoliant.
Furniture Fix
Make a thick paste by adding a bit of water to the ground and rub it onto the scratch. Let it sit for a while, then wipe the extra paste out until you reach the desired colour.