Veganism has skyrocketed in recent years, with more and more of us choosing to adopt a plant-based diet. An increasing amount of people globally are choosing to embrace this lifestyle. According to a recent survey, more than 3.5 million British people now identify as vegan, while almost 250,000 omnivores gave Veganuary a go in 2020. 
The driving shift towards veganism is based on three key factors:
People are becoming increasingly aware of their environmental impact.
More consumers are conscious of the treatment of animals when producing food.
People believe veganism is an investment in their personal health.
This change in attitude towards our diet has not gone unnoticed by us. As a matter of fact, we've been serving up plant-based food and drink within our bakeries for the past 30 years. 
As part of our small steps campaign, we invite our guests and customers to eat one vegan dish a week. Because it's not only good for you, but also for the planet. Did you know that the impact of 1 million people taking part in Veganuary is equal to:
103,840 tonnes of CO2eq saved, equivalent to driving around the world almost 15,000 times
405 tonnes of PO43-eq (eutrophication) saved, the same as 1,645 tonnes of sewage
6.2 million litres of water saved, the same as flushing the toilet almost half a million times or drinking 17.6 million cups of tea
"

At Le Pain Quotidien, we've been serving up plant-based food and drink within our bakeries for the past 30 years.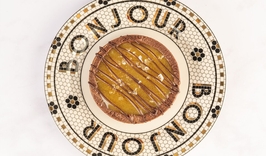 And for these reasons (amongst others), we've been working hard on creating a new menu full of delicious vegan dishes. So, whether you're after something hot or cold, breakfast or a sweet treat – we've got you covered. All our plant-based dishes are full of flavour and feature fresh seasonal produce.
Breakfast options range from a Parfait Bowl with coconut yoghurt, organic granola and berries  – to organic breads and Porridge with oats, rye and barley flakes, oat milk and fruit compote. For lunch or a light dinner, you can choose from a variety of homemade soups, salads and sandwiches, including our Miso Mushroom Tartine, Veggie Bowl, VLT Bun, Lentil & Roast Tomato Dhal or the already famous Spinach & Pine Nut Swirl.
Of course we also offer a selection of plant-based milks for hot drinks – as well as sweet treats including our signature cinnamon buns, chocolate & salted caramel tart and carrot cake.
We've made it easy for you to join us on the journey to eat healthier and vegan. The choice is yours. Are you taking this small step with us?