A bakery without croissants is like a pub with no beer; we think you would agree it doesn't make any sense. The heart and soul of every bakery is sculpted around the quality and love with which basic ingredients are carefully transformed into a final product. Mohammed is someone who, day in and out, empower the soul of Le Pain Quotidien. For 24 years, he and his team have been striving to deliver the highest quality croissant to our restaurants, so that you – as a customer – only have to sit down, order and enjoy. Because quality has a taste.
Mohammed was one of the very first bakers & pastry chefs that Alain Coumont housed in his atelier in Brussels in 1996. Luc, our atelier manager, saw potential in the introvert but hardworking Mohammed and didn't hesitate for a second to take him along on the new journey when constructing the new atelier in Ninove. He was therefore rewarded for his professionalism and he became the one in charge of the production of all the viennoiserie.
When we ask Mohammed some questions as he tours* layer after layer – about his time at LPQ and how he finds the motivation to move around pounds and pounds of butter and dough every day – he smiles shyly and says he just likes to do it. "C'est ma passion.". Colleagues therefore describe Mohammed as duty-conscious, honest and very accurate in everything that he does. "He is a man of few words, but all the more of action. A wonderful person to have on our team and someone we can always count on. Someone with passion and fire for his profession and that for 24 years", says Luc.
What Mohammed gladly explains in great detail is how he makes his croissants every day. Day 1 he starts preparing the dough. This dough is entirely made from organic raw materials including 100% pure organic butter, cane sugar, agave syrup and sourdough. This dough needs a night's rest at a very low temperature so that it is ready to be toured* after 24 hours. On day 2, each block of dough, weighing about 10.5kg, is layered with 3kg of organic butter, until you finally arrive at 16 divine layers of happiness (or butter, it's how you look at it of course.) This dough is cut into triangles and rolled up to the recognizable croissant shape. As a final stage, each croissant is freshly baked every morning in the restaurant. Haven't you noticed that smell yet? Well, that's Mohammed's croissants coming out of the oven and waiting for you every morning at your favorite Le Pain Quotidien restaurant.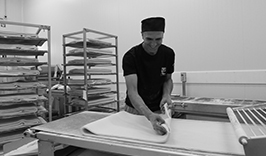 "

Our atelier is very honored to have someone as Mohammed on the team. He is a good guy on which everyone can build and a true force of nature. He is responsible for the smile on your face while enjoying a freshly baked organic croissant. And we too gladly admit that - even after 30 years – we enjoy our croissants on a daily basis… Quality control, am I right?!
* Touring or laminating the dough means that you roll the initially thicker dough flat to a certain thickness, then put a slice of butter on it, fold it and roll it flat again. This process is repeated until there are a total of 16 layers of butter.