Since the beginning, soups, sauces and smoothies have been our answer to overstock fruits and vegetables in order to avoid foodwaste. Today, we are going one step further and highlight products that are often considered "ugly and not conform". In our eyes, they are not ugly, at best funny looking. We call them our Perfectly Imperfect Veggies.
Uniformity doesn't taste any better
Nearly half of all fruit and vegetables crops are thrown away before they reach the shelves often because they don't meet the "standards of beauty" and the definition of "perfection" demanded by supermarkets who require uniformity in their boxes, crates and shelves. Although the straightest carrots, zucchini, cucumbers, beans and eggplants are not tastier, many consumers associate shape to taste, keeping imperfectly shaped veggies from being sold. Perfectly round tomatoes, oranges, apples or melons are no tastier. Yet imperfect fruits often end up in the garbage too.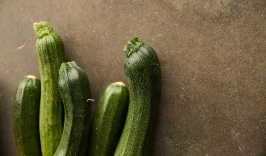 Welcome perfectly imperfect veggies
This means that a significant portion of the harvest is unfortunately going to waste. In light of this realization, we were determined to help reduce this waste by making this project our next small step.
Luckily, we were not alone. We partnered with Notes de mon Jardin and local farmers who provide us with their imperfect veggies in spirit of "it would be ugly to throw them away".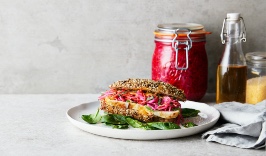 New chicken bun with perfectly imperfect veggies
Wanting to bring attention to this food waste, we've been working on a new recipe featuring the vegetables no one wants. The new Chicken  & Imperfect Veggies Bun is now available in all of our restaurants. This bun is a multicereal bun with grilled chicken, pickled imperfect veggies, organic gomasio, baby spinach and a spiced sriracha sauce.
Our perfectly imperfect veggies are unique. Their imperfections make them beautiful. Sometimes, we find wacky and funny looking shapes… So go for the twisted cucumber or the bent bean. They are all the better for it!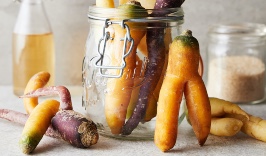 Which small steps do you take?
Since vegetables are tastier fresh, they are often thrown away to ensure freshness on the shelves. Did you know that there are also many vegetables that can be kept fresh if they are preserved correctly? In fact, all fresh vegetables can be kept for a few days or even weeks.
Store vegetables like onions and potatoes in a cool, dry place. Find the coolest place in your kitchen or home. Did you know that winter carrots could also be stored for a month?
For other vegetables, it is best to look at their origin: are they typically Mediterranean fruit crops such as tomatoes, peppers, cucumbers, zucchini and eggplant? Then store them in a cool, dry place, but not in the fridge.
Are they crops that have been growing here for centuries, like cabbage, spinach or beans? These like to sit unwashed in the fridge drawer and can last a week. As for lettuce, it's best to wash it while it's still fresh and place it in the refrigerator, wiped dry, in a plastic bag or closed container, with a piece of paper towel to keep it moist.
You will find many tips online on different ways to better keep vegetables. With these tips, you will find yourself to hardly ever throw away any vegetables while taking a small but important step. Ready to go?