Little daily miracles
The tradition of fresh-baked bread is a routine worthy of repetition. Once Alain Coumont decided to open his bakery, he needed to decide on a name. He recalled a memory of his father exclaiming "moi, ce n'est pas mon pain quotidien!" literally translating to "it's not my daily bread." Alain knew he needn't look any further for the words to hang above his bakery door. Welcome to Le Pain Quotidien, "the daily bread," where the past meets the present and the future is today.
A family affair
Alain Coumont learned the beauty of baking when he was just a little boy. Too small to reach the counter, his aunt Simone would pull a chair over for Alain to stand on so he could watch her make the dough for bread. On Sundays they'd bake, not just loaves and boules, but a dozen tarts too.
His taste for baking up happiness reaches far back into the legacy of his past. Alain's mother's parents owned a restaurant near Liège in Belgium, and his father trained as a chef. Alain even studied at the same hotel school that his father attended in Namur, Belgium. He followed in their footsteps until it was time to mark his own path.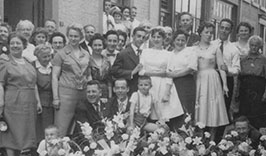 Perfectly Imperfect
As a young chef in Brussels, Alain hunted, tasted and searched for bread that lived up to his childhood ideal. Coming up empty-handed was perhaps the most fortunate stroke, for Alain realized that the only way to satisfy his yearning for the rustic bread of his youth was to recreate it from memory. And so, Le Pain Quotidien was born from his quest to taste the familiar.
16 Rue Dansaert Bruxelles, Belgique
The first Le Pain Quotidien opened in Brussels in 1990, and within a few months 10 more locations opened, all serving the classic, rustic loaves Alain grew up with. Seven years later, Alain's dream to open in the United States was realized with a flagship bakery on Madison Avenue in New York City, and now, his vision of fresh-baked, traditionally made bread has become a tradition for neighbors and friends at over 260 Le Pain Quotidien locations throughout the world.
"

My idea was simple, having a place where I can feel home… away from home