Take small steps, together with us
For 30 years, we have been trying to take small steps to limit our environmental impact. We are strong believers that these small steps have a real impact. Today, we are inviting you to join us to be better together and to reduce our carbon footprint, one step at a time.
What can you adapt in your daily life? How can you share more with others and with the planet? How can we live in mindfulness by enjoying what is really good for us?
Here are a few simple ideas for you and some examples of small steps that we have already taken at Le Pain Quotidien.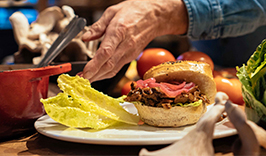 Choose for 100% vegan recipes.
Our very first menu in 1990 already offered vegan recipes. Its number has only grew through the years. Every day, you can enjoy fresh, seasonal and vegan recipes in our restaurants.
Having one vegan meal a week already has a very positively impact – on top of being absolutely delightful and good for your health. Discover our new 100% vegan bun with oyster mushrooms grown on our coffee grounds together with a vegetal drink. This is a small savoury step which we are helping you to take!
Choosing for organic ingredients
We choose organic and local ingredients as much as possible. Choosing for organic farming, it's choosing products that are better for your health, without additives and pesticides, fresh, and which respect seasonality.
What some might consider as food waste could, in most cases, be reused. For example, our coffee grounds is collected and given to PermaFungi who uses it to grow our organic oyster mushrooms which you can try out in our delicious 100% vegan bun.
ZERO WASTE
Reduce & Refuse:  In order not to order too much or produce too much and hence avoid baking products that will go to waste, we are using an IT system that allows us to predict the quantities needed.
Reuse: we give a second life to many of our "food waste" such as our coffee grounds or our breads.
Recycle: the furniture of all of Le Pain Quotidien restaurants is made based on recycled and natural materials.
"

What small step do you take?
6 ideas to start with your small steps:
Do you already eat vegan? If it is already the case, you are on the right track ! Otherwise, try to choose one vegan dish a week, it is already a good start for your health.
Do you already choose for organic products? Not yet? They truly taste better!
Do you brew your own coffee at home ? In this case, do not throw the coffee grounds away! It is full of benefits which can be re-used in many different ways.
Set yourself a challenge for a month: not to throw your bread and re-use it!
Why not take part in a cleaning operation in your city of on the beach during your holidays to collect misplaced waste? An alternative to your weekly workout.
Inspire your friends and families by sharing your #smallsteps on social media