Since the opening of the first Le Pain Quotidien bakery, organic has always been a priority. Garanteeing quality product is key to us. This goes hand in hand with choosing products and ingredients that are grown from organic farming. Choosing for organic is a promise of a better taste, seasonal and healthy products. It is also taking care of nature and of the earth. Organic is important for us. Are you ready to take a small step?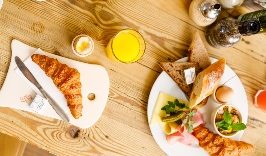 In organic farming, farmers work respectfully of nature. They are always looking for ways to reduce their environmental impact and strive to contribute to preserve the environment and not to harm it by growing products with chemicals and pesticides, additives or GMO. Organic farming allows to produce and grow products ecologically without exhausting the natural resources and to guarantee more harvests in the future.
Growing our share of organic
Today, choosing for organic ingredients is not always easy nor is it always feasible. However, we are not giving up and are always looking for ways to increase our share of organic in our sourcing. We are strong believers that if the demand for organic products increases, more and more farmers will take a step and will turn their farms to organic farming by leaving pesticides behind.
This thinking is also involved in all of our decisions : can we recycle or re-use a product? How ? Our coffee grounds is collected and used to grow oyster mushrooms. This is a perfect example of our philosophy.
In our bakeries, we sell exclusively organic breads. To do so, we have searched organic flour: not an easy one to find. But our breads are the living proof of the wonders that organic farming can do: they are so much tastier. They will give you a longer lasting feeling of fulfillment and can be kept longer. All of this is directly linked to the quality of the flour used that only organic farming can provide.
"

A small step towards organic ?
Would you like to join the movement ? What are the products that you are purchasing which could be organic? Would you like to learn more about the differences between organic and conventional farming? We highly recommend you the documentary « Kiss The Ground » to know more. #smallsteps